Yes! The shins felt okay for the Jingle Bell 5K this past Sunday and I ran a 17:57! I forgot to get my Santa costume on Saturday and thus missed out on the dash for cash. While only one santa finished ahead of me, it's doubtful I could've finished as fast in a Santa outfit… but still, 2nd Santa paid $100!
Funny story from the end of the race. Some dude w/ a girl in tow passed me about 1k from the line. I stayed close, then Carlos from SRR pulled up next to me w/ about 700m to go. We pick it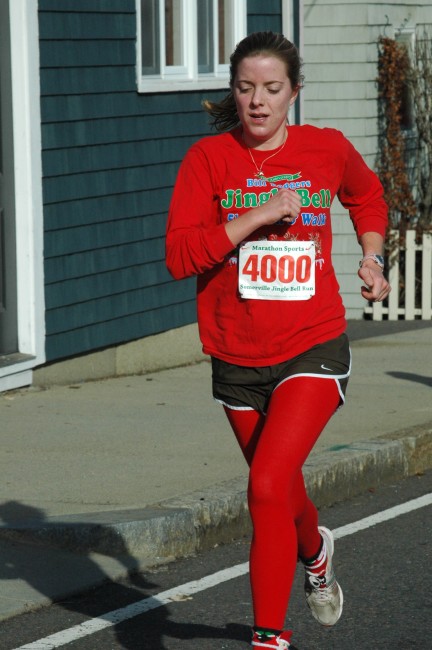 up and catch the two in front of us with about 500m to go. But speedy girl in red is turning around every few steps and crankin' it… she wants to throw down! So she pulls up next to her buddy and Carlos next to her… and I'm stuck behind a 3-wide wall. WTF! Enough of this BS, ~200m to go I throw my right elbow into Carlos, then I jab speedy girl in red with my left and suddenly I've got a hole. Buh-bye. I shot outta' there like my ass was on fire, caught baggy sweatpants kid (seriously?) that dropped me a mile back and high-fived Pickle at the line. And were it not for the shoving, I wouldn't have hit my goal… the speedy girl in red had to settle for 18:01.
And speaking of goals, entries for the Super Sunday 5K/10K are coming in much better than I expected. We had 331 finishers last year and I was hoping to double that in 2009. But with 6 weeks to go, we've already got 460 people entered. Time to adjust that goal upwards.